TikTok continues to redefine what's possible in mobile monetization. In Q1 2023, TikTok became the first app to ever surpass $1 billion in consumer spend in a single quarter. Honor of Kings, a game and the second best app, earned $570 million in global consumer spend across iOS and Google Play, while YouTube rounded out the top three with more than $530 million.
Consumer spend totals alone do not reveal how much of a unicorn TikTok is in terms of in-app purchases. While nearly 70% of in-app purchase spending in non-game apps comes from subscriptions, TikTok bucks this trend by relying on one-time purchases (typically more popular among gaming) to gift to their favorite streamers. TikTok is the only non-gaming title among the top 10 by one-time purchase revenue in the United States, leading hit games like Candy Crush Saga, Roblox and Pokémon GO. The social video giant has built a large and loyal fan base, allowing it to forgo the reliability of the subscription model and instead rake in billions of dollars with TikTok coins. This is likely to have caught the attention of other social platforms which have not yet cracked monetization beyond ads.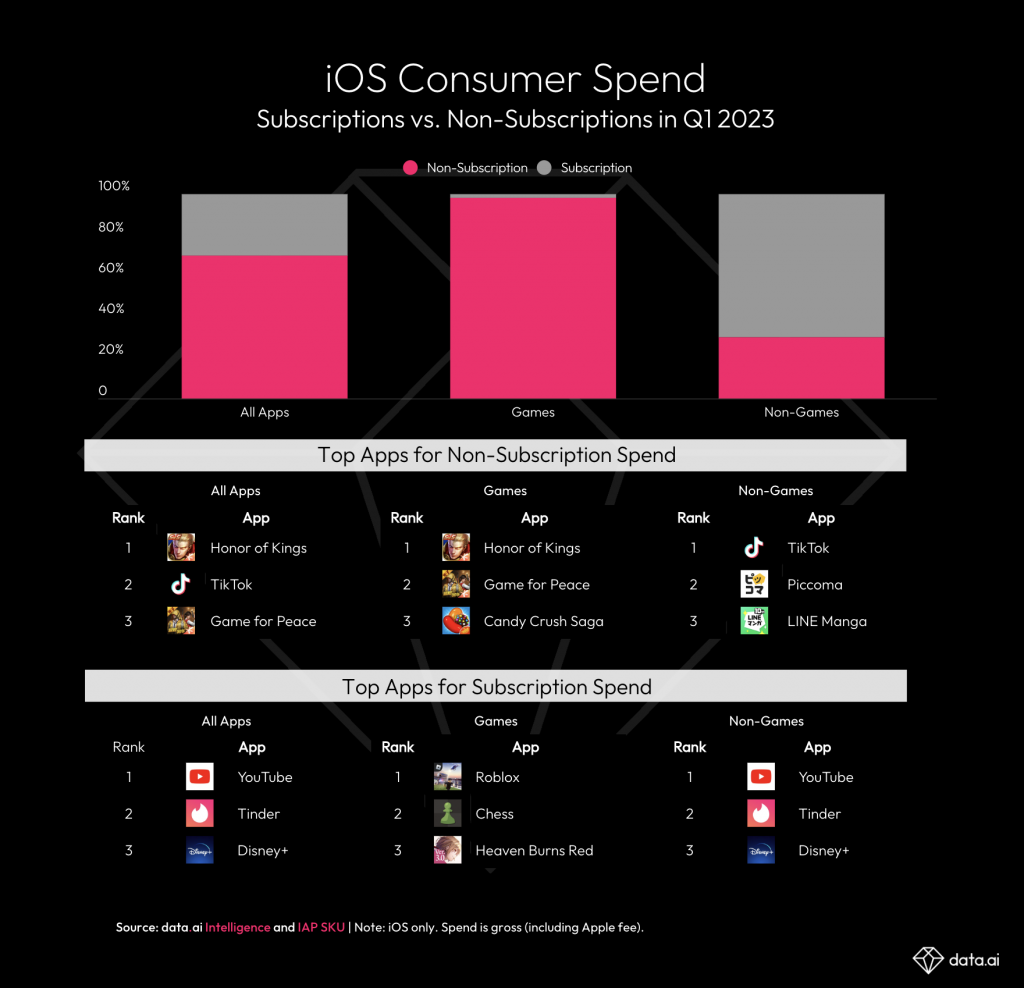 React quickly to the latest shifts in consumer preferences
Consumer spend behavior continues to evolve, as people turn to spend more time on mobile devices and feel more comfortable using apps for entertainment, health, fitness, dating and more. The rise in popularity of the subscription model reflects the demand for a moderate price point, coupled with the value consumers find in the convenience of an automatically renewed service, also assuring sustainable revenue streams for developers. In terms of price sensitivity, more than 70% of non-gaming in-app purchase revenue in the US was from in-app purchases priced between $10 and $100 in Q1 2023, an increase of 6 percentage points from Q1 2022.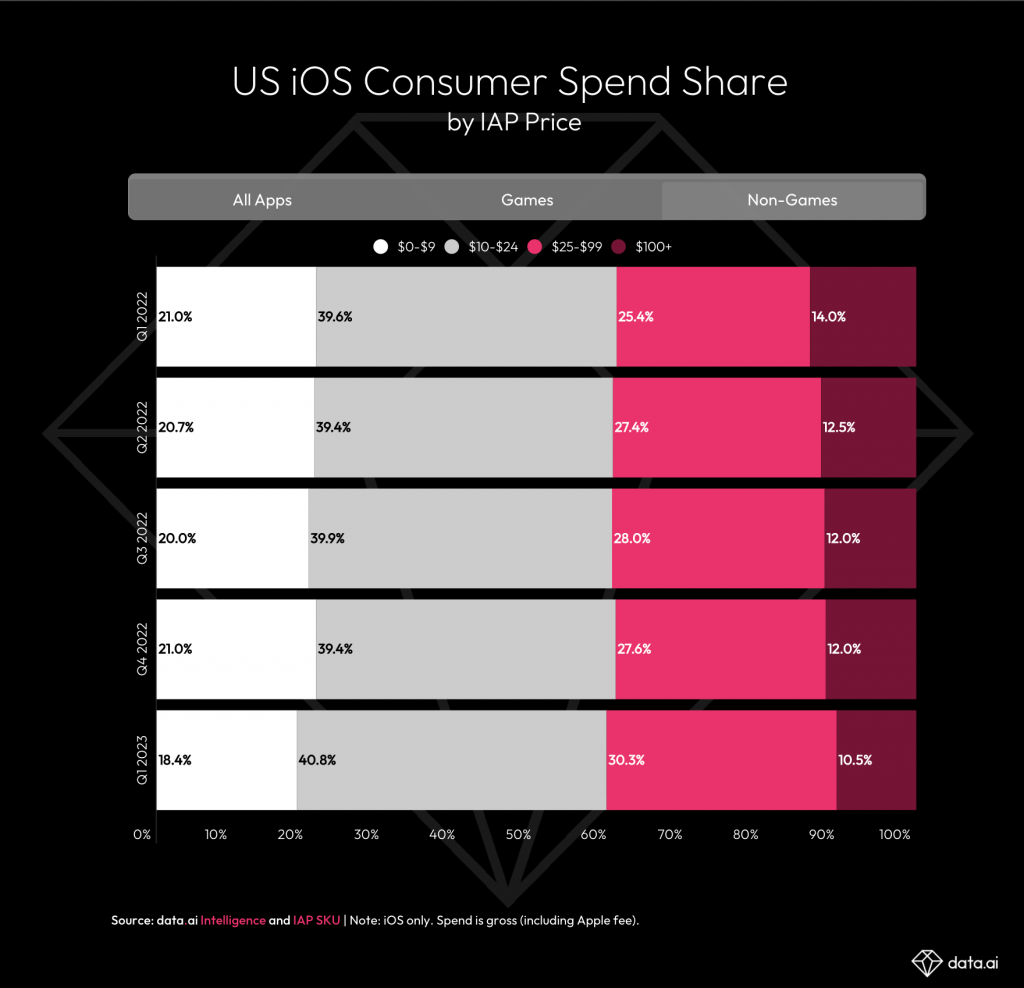 Mid-tier in-app purchases ($10 - $99) only account for 42% of spend in mobile games because consumers are more likely to purchase many low-priced items or splurge on high-priced in-app purchases at $100 or above. Nearly half (45%) of all in-app purchase revenue from games in the US are priced under $10. However, a substantial portion still comes from the highest-priced in-app purchases, at more than $100.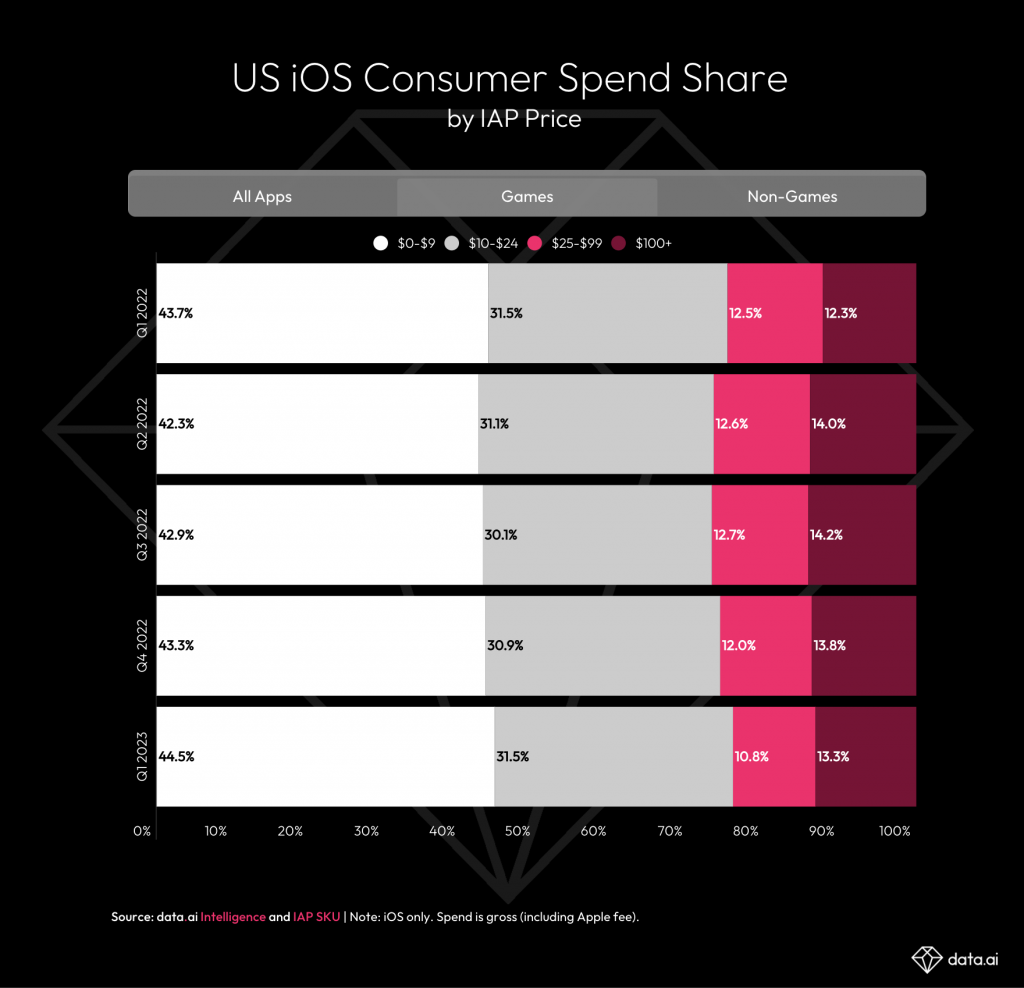 The right features – and the right prices – are pivotal for mobile revenue growth
Hinge, the popular dating app from Match Group, implemented an ever-evolving monetization strategy to achieve nearly 60% YoY revenue growth in the US in 2022. In late 2020, Hinge added Roses (similar to Tinder's Super Likes) as a one-time purchase option in addition to its subscriptions. This in-app purchase proved to be incredibly successful — by Q1 2023, Roses accounted for more than a third of Hinge's revenue in the US on iOS. 
Perhaps noting the increase in demand for in-app purchases priced between $25 and $100, Hinge also recently added some new membership levels at a higher price point. Hinge rolled out a $60 per month subscription option earlier this year. In addition, its most popular subscription option in Q1 2023 was $30, up from $20 a year prior. By combining the more affordable one-time purchase option (Roses) with premium subscriptions, Hinge quickly adapted its monetization strategy with a variety of preferences and price sensitivity. And as a result, the dating app found rapid growth.