Hello data.ai Community,
This is our first ever conversation centered on the topics in this week's data.ai "Insights Newsletter."
If you have any questions, thoughts, or your own insights of your own from this week's newsletter, comment below and our Sr. Director Market Insights, Randy Nelson (along with others) will be jumping in to continue the conversation.
New ai app insights and more from data.ai
As we enter the home stretch of 2023, the data.ai Market Insights team is increasingly focused on the biggest trends of the year and where they could lead the mobile ecosystem in 2024. We're also taking the temperature of various verticals, like mobile games, to see if they fared better than expected this year. We're doing this from numerous angles, some you'll see here and others in our upcoming State of Mobile 2024 report in January.

Cheaper, Ad-Supported OTT Tiers Are Putting the Squeeze on Pricier Subscriptions
2021 saw a surge in free, ad-supported (AVOD) streaming options on mobile. The theme for 2022 has been the largest players in the subscription streaming (SVOD) space rolling out cheaper, ad-supported offerings as a means of bolstering their subscriber bases. The result: mid- and low-end subscription tiers now account for more than half of in-app subscription spending in over-the-top (OTT) streaming apps in the United States.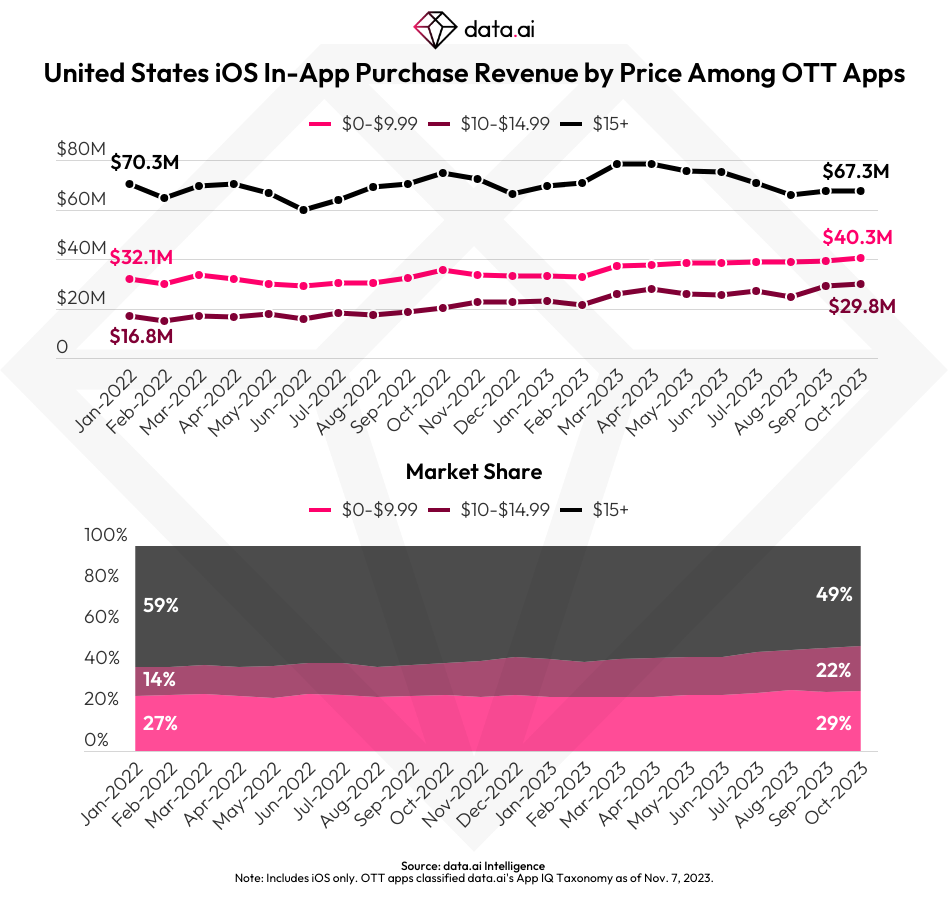 The share of in-app revenue among this app cohort coming from subscription purchases (monthly or annual) has declined from 59% in January 2022 to 49% in October according to data.ai Intelligence estimates — a change of 10 percentage points. IAP in what appears to be the sweet spot of $10 to $14.99, on the other hand, grew their share of subscription revenue 8 percentage points from 14% to 22% during the same period. Of course, many streamers have been raising their base tier pricing as well, pushing more subscribers into this range. Meanwhile, IAP priced $9.99 and under grew 2 percentage points from 27% to 29% as more servicers incorporated free-with-advertising tiers.

Looking a layer deeper, among the top five OTT apps in the US, revenue from ad-free options took a step back in Q3 2023 while subscriptions with ads increased. More and more streamers are adding cheaper ad-supported options to appeal to cost-conscious consumers, and we were already seeing the start of this transition before Q4 began.

Most of October's Breakout Generative ai Apps by Revenue Growth Were Chatbots
Generative ai continues to establish itself on mobile at a breakneck pace. Global consumer spend in these apps grew 10% month-over-month in October to nearly $47 million, with OpenAI's groundbreaking ChatGPT app leading in terms of dollars added MoM. This analysis utilized our ever-expending App IQ taxonomy's new Generative ai genre.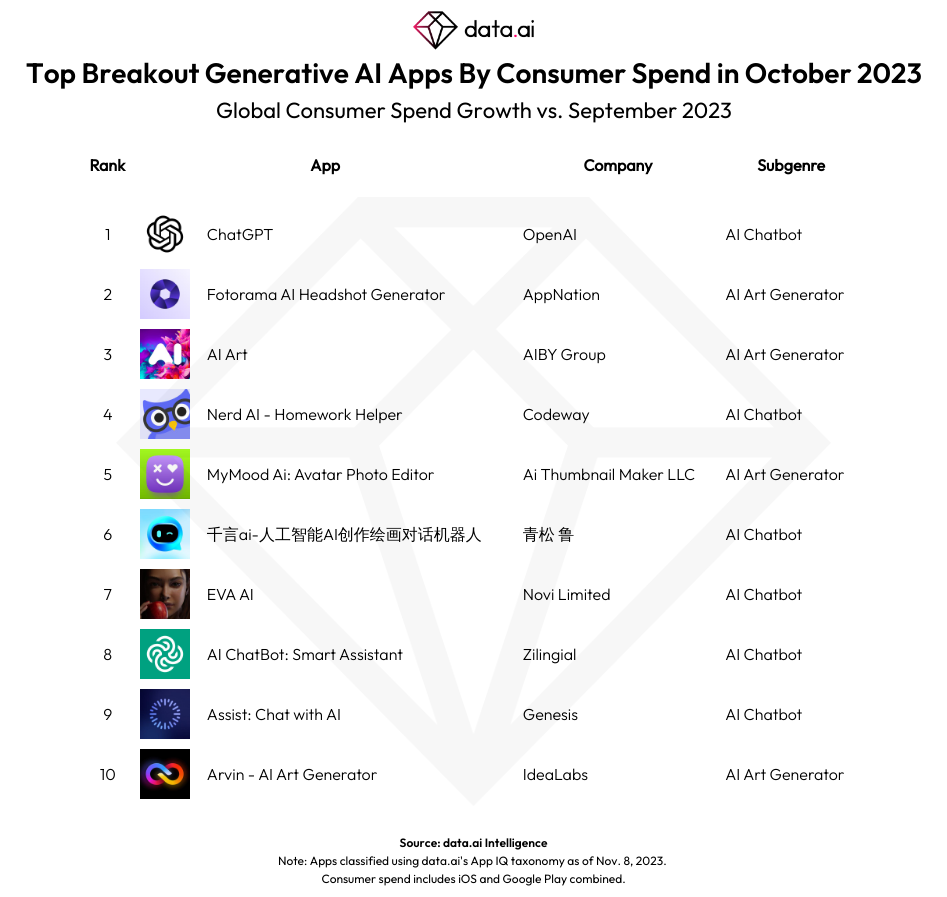 What's noteworthy among the top Generative ai apps by breakout consumer spend is that while ai Art Generator apps have received much attention as the leading examples of monetizable ai-generated content, ai Chatbot apps are actually more prominent. Globally, six of the top 10 breakout Generative ai apps by consumer spend growth last month were in this subgenre, including the #1 app, ChatGPT.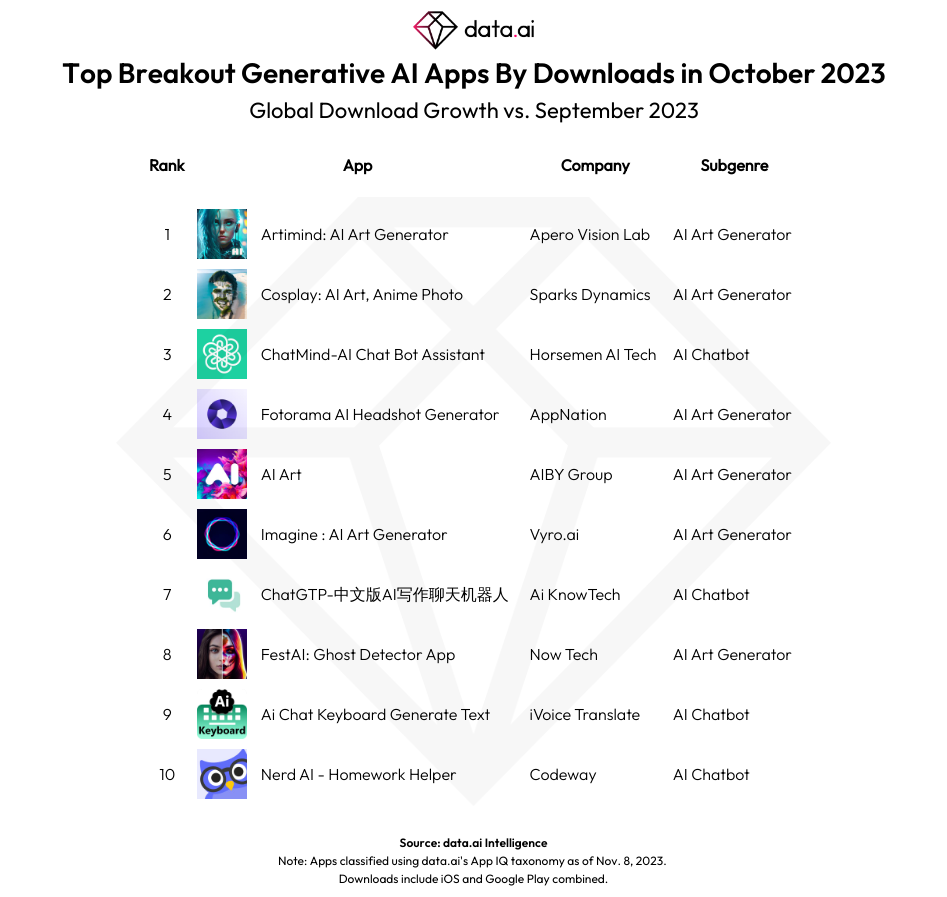 On the downloads front, the majority share seesawed back to ai Art Generator apps, which represented six of the 10 most installed Generative ai apps last month, including four of the top five.

This Year's New $1M+ Game Launches Earned Much More in Their First Month Than 2022's Did
Last but not least this week, we looked at an alternative measure of the mobile gaming market — beyond mere growth of market size itself. In this instance, we asked ourselves how this year's most successful launches (those generating consumer spend of $1 million or more) performed in their first full month compared to 2022's batch. (First off, there were 79 such titles this year-to-date; 2022 had 77.) The answer: much better.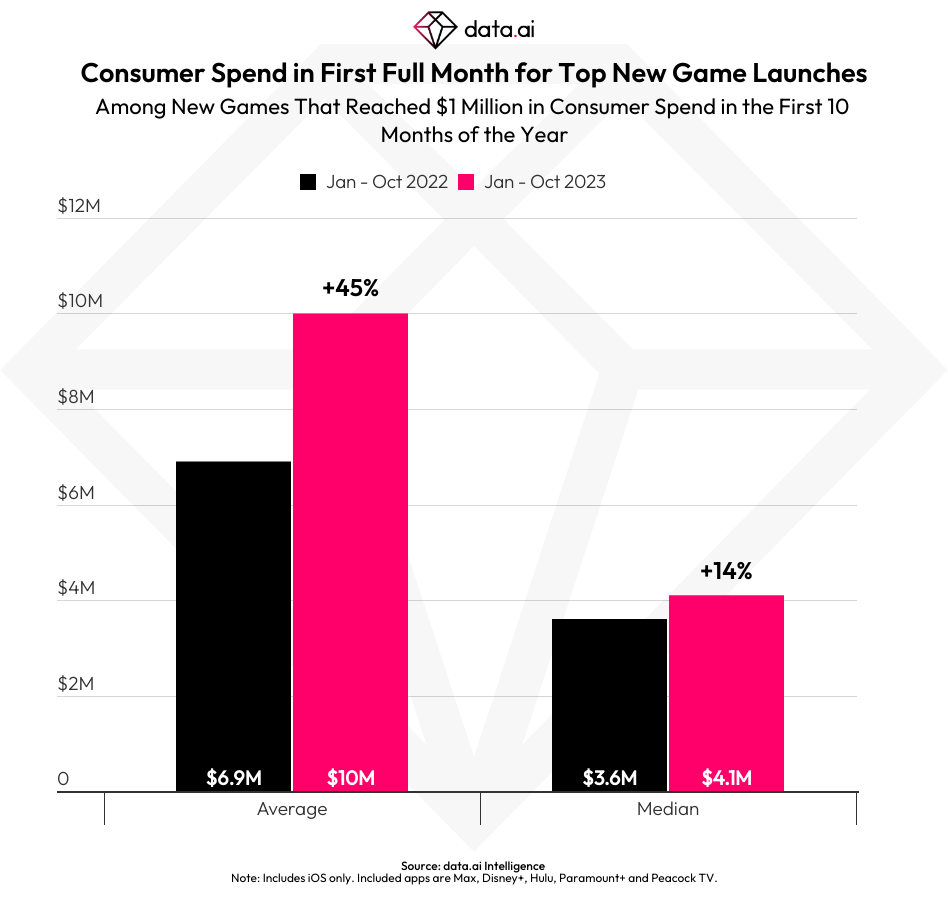 At this point in 2022, newly launched titles grossing more than $1 million for the year averaged approximately $6.9 million in consumer spend during their first full month of availability. Fast-forward to the present and such titles released in January of this year or later have averaged about $10 million in first-month spend, an increase of nearly 45% year-over-year.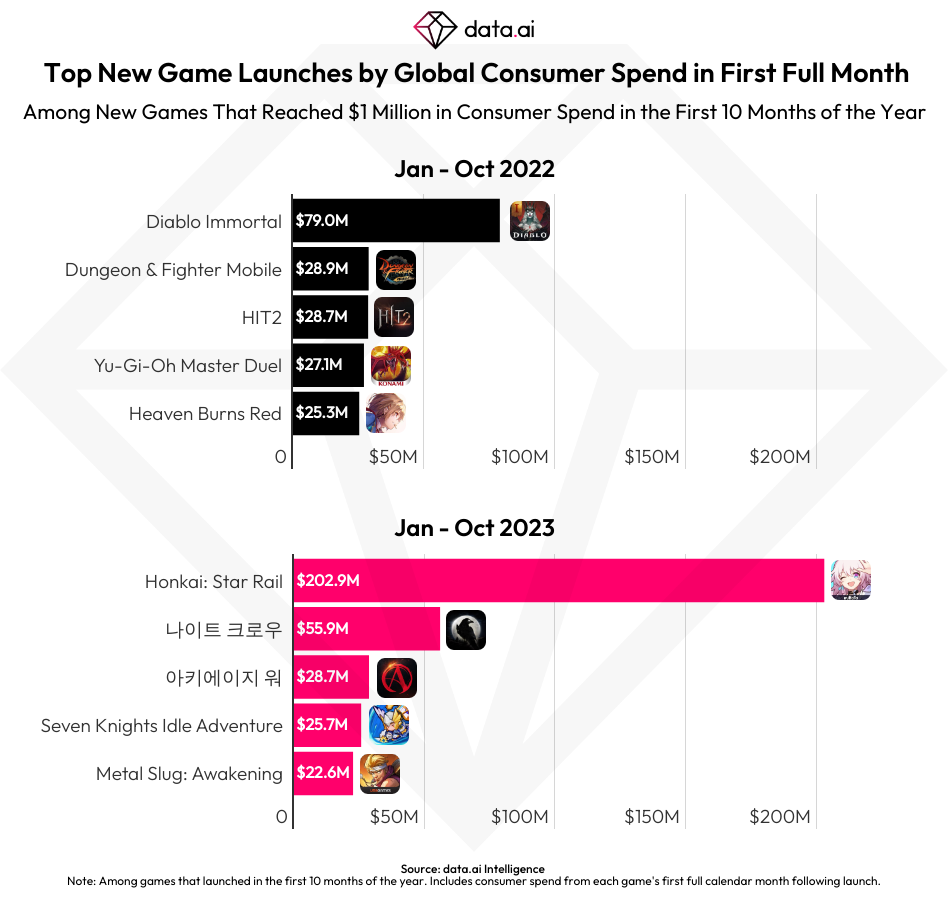 Taken with along with our other recent findings regarding the vertical, this new stat adds to mounting proof for a resurgence of the mobile gaming market in 2024 and beyond.