As ai grips the world, ChatGPT increasingly becomes a household name. And this May, OpenAI released the iOS version of ChatGPT app, which reached 5 million downloads in under three weeks on the market. The massive success on iOS is only the beginning as the world awaits the launch of ChatGPT on Google Play.  
While the US is the largest market so far for ChatGPT, at 1.5M iOS downloads, the app is gaining traction globally.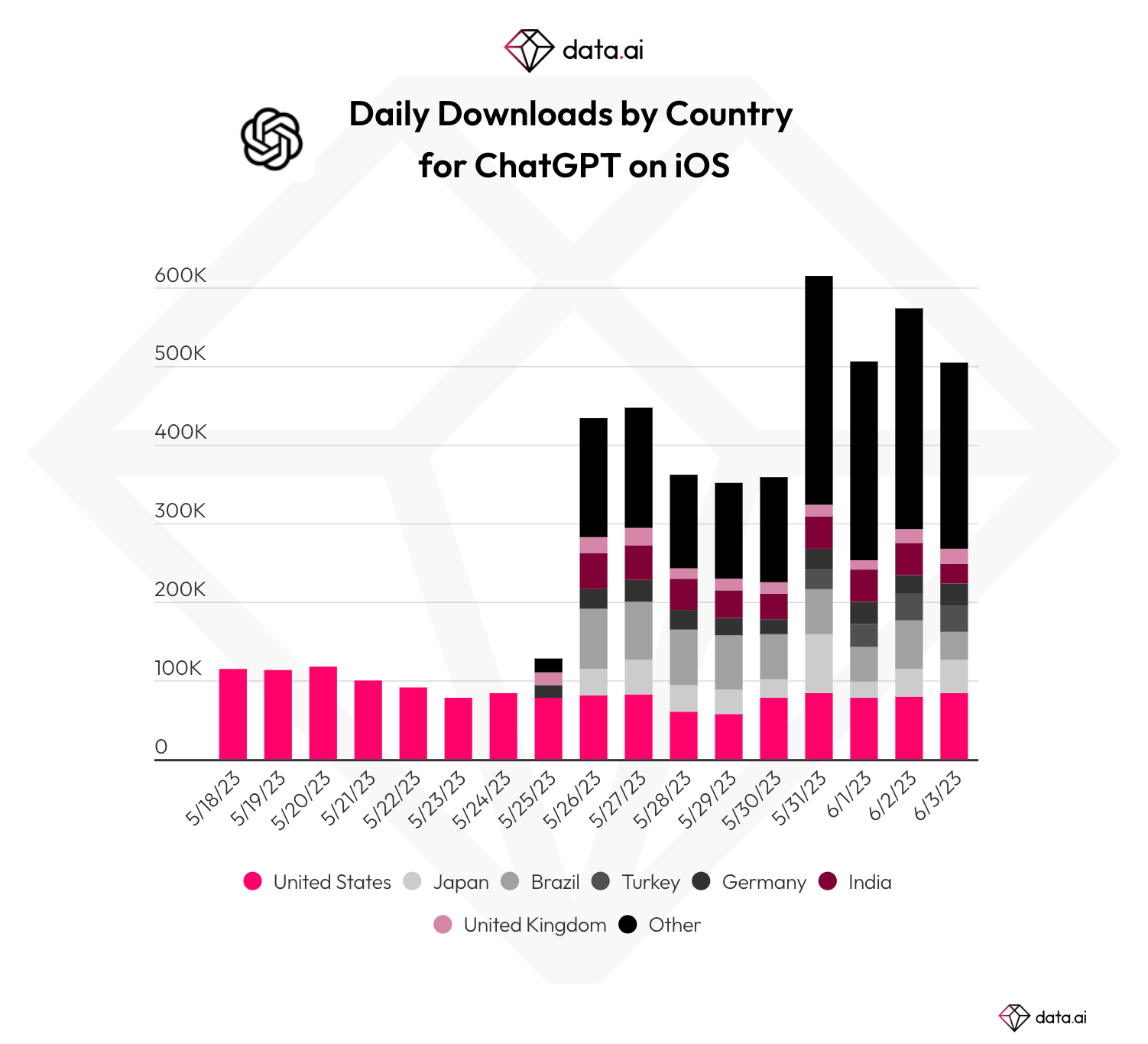 Given the scale and global distribution of the app stores, the app stands to make sizable inroads into people's daily lives. Apps tend to garner better engagement and stronger retention than web. In fact, 92% of time spent on mobile devices occurs in apps and games as opposed to mobile web browsers. An app could help cement ChatGPT into the daily habits of consumer lives. 
Is ChatGPT leading the ai chatbot race on mobile?
Not yet … but their start is promising.
Ask AI by Codeway leads the group starting more than 2 months earlier than ChatGPT. By being one of the first to launch across both app stores, they garnered significant traction from growing consumer interest — particularly on Android devices, which represented more than half of all downloads for the app. 
Character AI was released on both iOS and Google Play five days after ChatGPT's iOS release. The app is backed by Andreessen Horowitz's (a16z) and already earned its place in the unicorn club by reaching a company valuation of $1 billion. The app allows for ai companions to be customized and personalized to the consumer and offers millions of off-the-shelf characters. Character AI reached 8.8M downloads in just 12 days, with 90% of downloads coming from Google Play.
Microsoft's Bing Search app is another app leading the ai/chatbot race. The app benefits from Microsoft's household name, established app presence and speedy ai incorporation. Bing updated its app store name, description and screenshots on March 6, 2023 to reflect it was all-in on ai. The move helped optimize for organic discovery as part of Bing's App Store Optimization (ASO) strategy. 
The Android market (predominantly catered to by the Google Play store outside of China) is incredibly important to driving mobile growth. Across iOS and Google Play in Q1 2023, 75% of app and game downloads globally came from Google Play. While 5M iOS downloads is certainly nothing to snuff at, ChatGPT is poised to tap into an even larger potential market with the release of a Google Play version. We'll be monitoring the competitive ai/chatbot space to see how ChatGPT contends with established players in the coming weeks.  
DISCLAIMER: 
data.ai is a mobile market estimate service provider. data.ai is not registered in any investment advisory capacity in any jurisdiction globally, and does not offer any legal, financial, investment or business advice. Nothing contained in this communication, or in any data.ai products, services, communications, or other offerings, should be construed as an offer, recommendation, or solicitation to buy or sell any security or investment, or to make any investment decisions. Any reference to past or potential performance is not, and should not, be construed as a recommendation or as a guarantee of any specific outcome. You should always consult your own professional legal, financial, investment and business advisors. Additionally, by providing the information herein, data.ai does not make any representations or warranties and does not undertake any legal or contractual obligations whatsoever. No liability may accrue to data.ai as a result of providing this information to you.