In data.ai and IDC's latest partnered report, we dive deep into a comprehensive analysis of the gaming sector — despite the softening in direct consumer gaming consumer spend, mobile is still the largest market opportunity for games.
2023 Gaming Spotlight: Mobile Is Set to Reach $108 Billion This Year — Maintaining It's Global Lead to 2.7x over PC/Mac
In data.ai and IDC's latest partnered report, we dive deep into a comprehensive analysis of the gaming sector — despite the softening in direct consumer gaming consumer spend, mobile is still the largest market opportunity for games.
According to projections from data.ai and our partner IDC, mobile gaming will eclipse 56% market share of global consumer spend in gaming for 2023, compared to 22% for console game revenue, 21% for PC/Mac, and around 1% for handheld console. 2022 was, overall, a down period for gaming spend on mobile; it represented the first year-over-year decline in revenue for the category since the advent of the app stores. This year has seen a potential bottoming out of that decline, with signs that a new period of growth may be on the horizon even if 2023 comes in slightly lower than last year in total. This report explores what's ahead for the global gaming market in 2023 and, more specifically, how mobile gaming fits into this picture.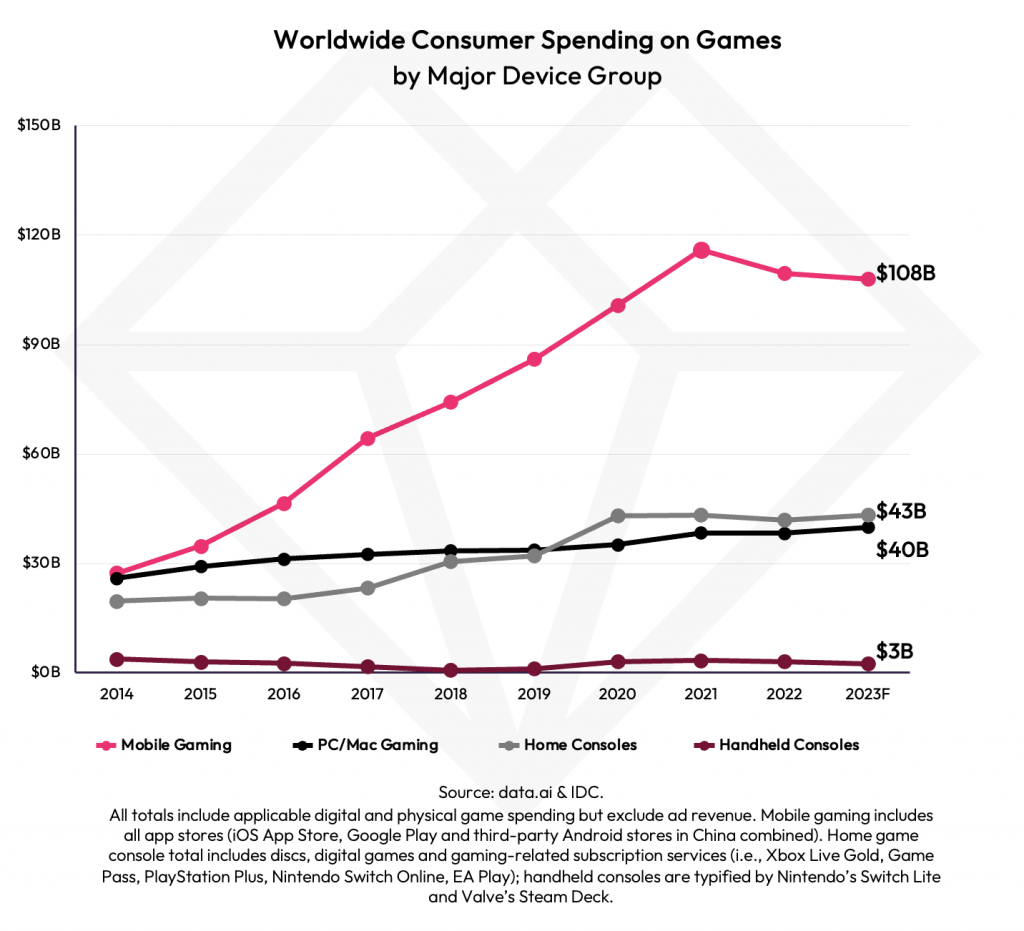 Simulation Game Downloads Surged in H1 2023, While Team Battle RPGs Saw Growth in Consumer Spend Share
One aspect of our joint analysis looks at shifts in market share among the various game genres, which is key to understanding which ones are expressing outsize growth even as the overall market has contracted from the high points witnessed in 2021. These shifts were minor in the grand scheme, reflecting fractions of percentage points, yet are still helpful in deciphering consumer affinity as other signals diminish, particularly in mobile games.
Looking at downloads, Driving and Sports Simulations posted the strongest showings in terms of year-over-year growth, while revenue share was redistributed towards Team Battle and M3-Meta, led by Honkai: Star Rail and Royal Match, respectively.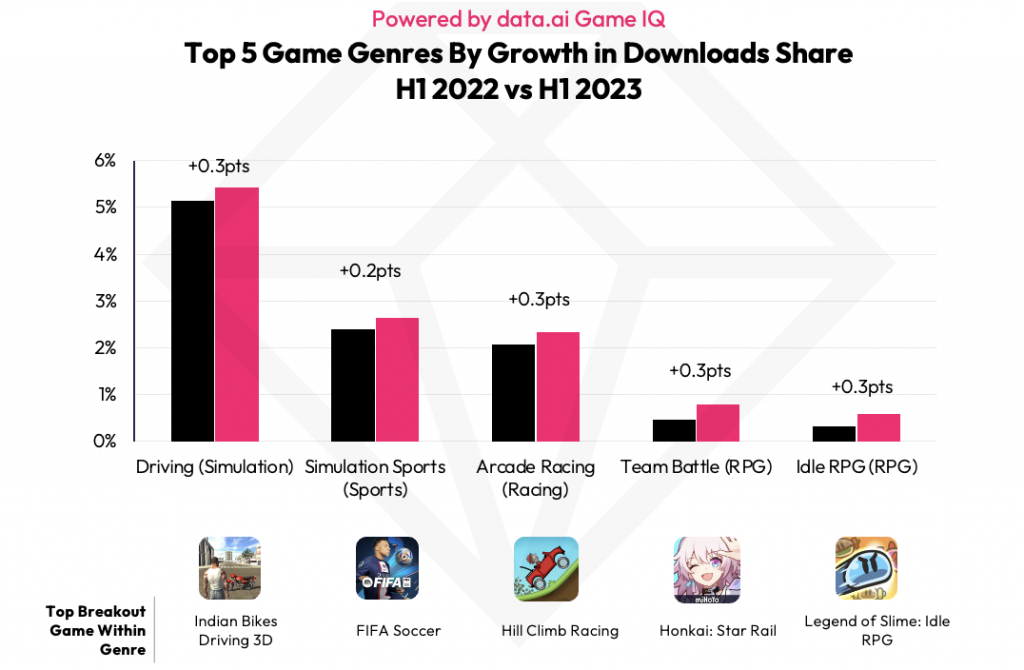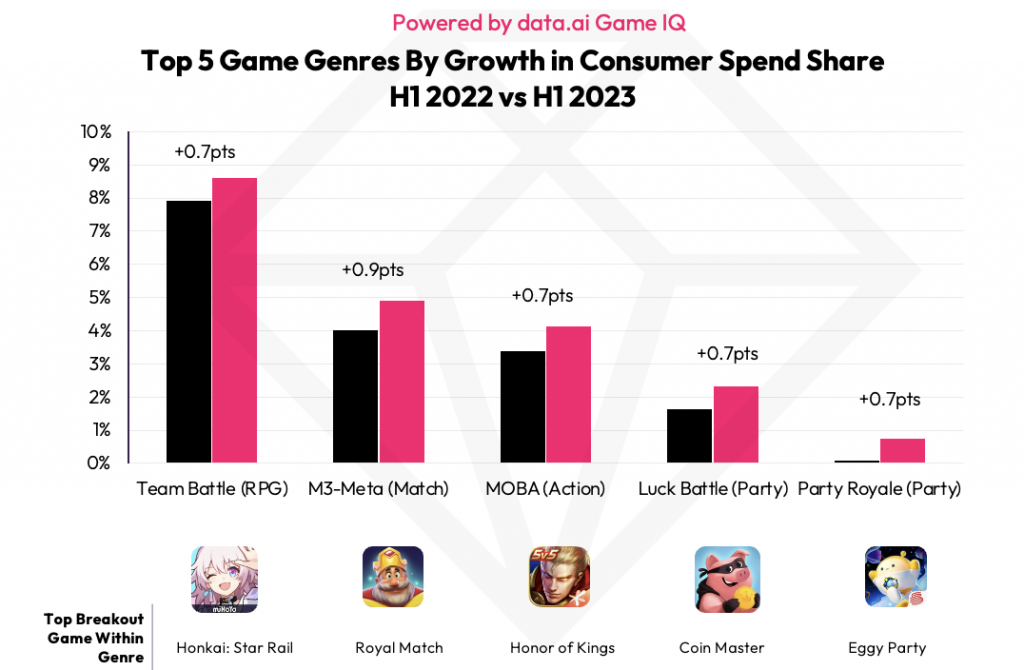 Mobile Games That Defined H1 2023
Exploring beyond genres, our Gaming Spotlight goes inside the data to identify the most successful breakout mobile titles so far in 2023. Games that performed well in H1 2023 were varied, including the launch of a board game turned on-the-go mobile experience, a highly anticipated RPG release building on the popularity of genre-defining Genshin Impact, a savvy title disrupting a stable Match-3 market in under three years and a cross-platform IP franchise based on the world's most popular sport seeing renewed fervor from tentpole live sporting events. Strong IP, capitalizing on market momentum and leveraging events are common themes for success.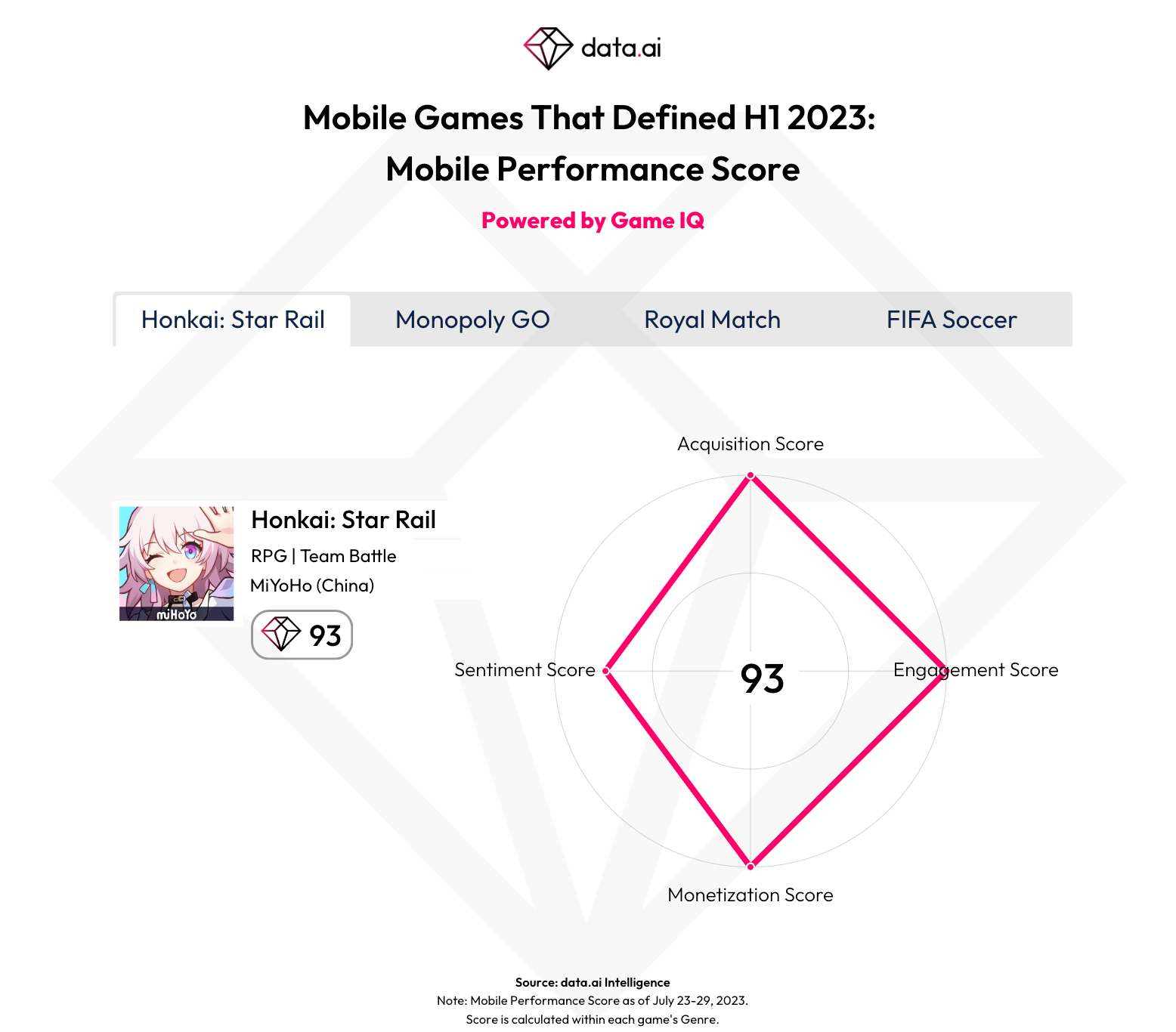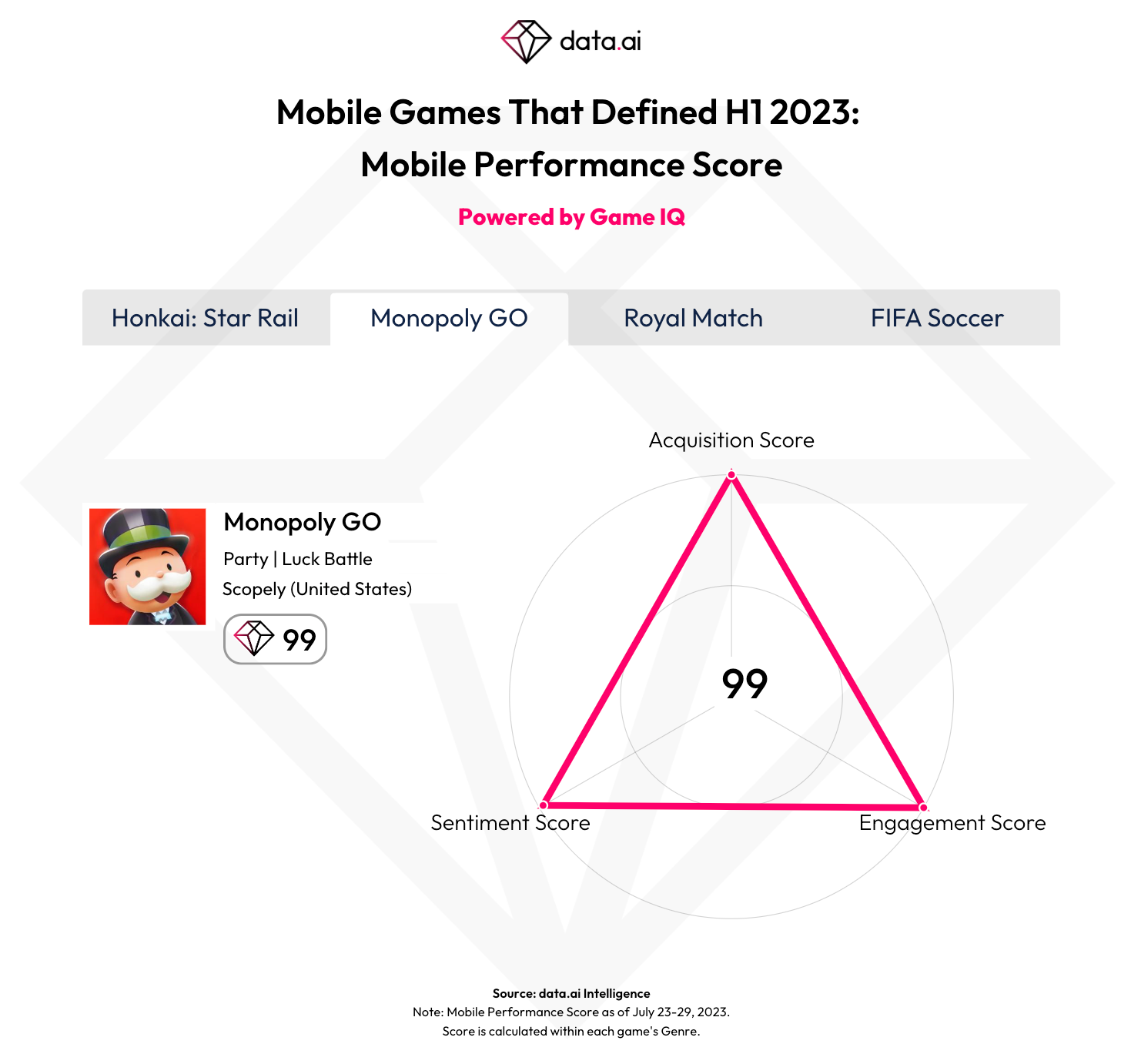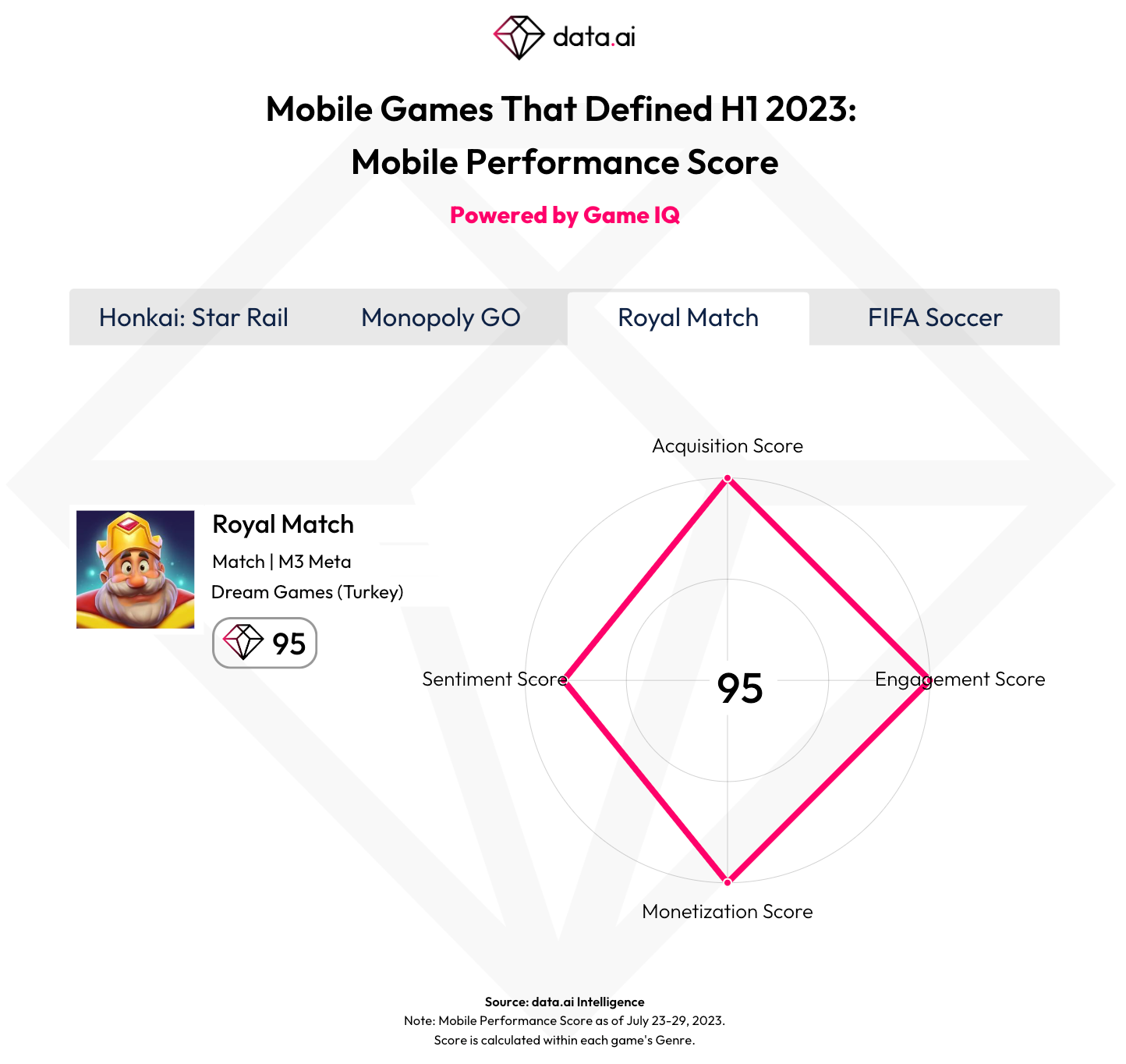 Consumer Focus on Privacy and Changing Views Towards In-Game Advertising
According to IDC, most mobile app and game users (by a 3:1 margin) would rather see ads in exchange for free content and services than to pay for apps and avoid all ads. As a monetization mechanic, data.ai data shows that games which monetize through the app stores are experimenting with hybrid models that include ads as a way to make gaming more inclusive and accessible for the widening gaming audiences, as well as more lucrative for the publishers.
That being said, the impact of IDFA's deprecation is apparent, and consumers still favor privacy when it comes to ad tracking — underscoring the importance of contextual market data to inform successful strategies. For gamers specifically, we see that sentiment towards ads varies dramatically by type. In the US, sentiment towards video and banner ads have grown more positive, but still skew more negative overall. Rewarded Video ads remain the most positive for gamers, but sentiment has dipped slightly in 2022.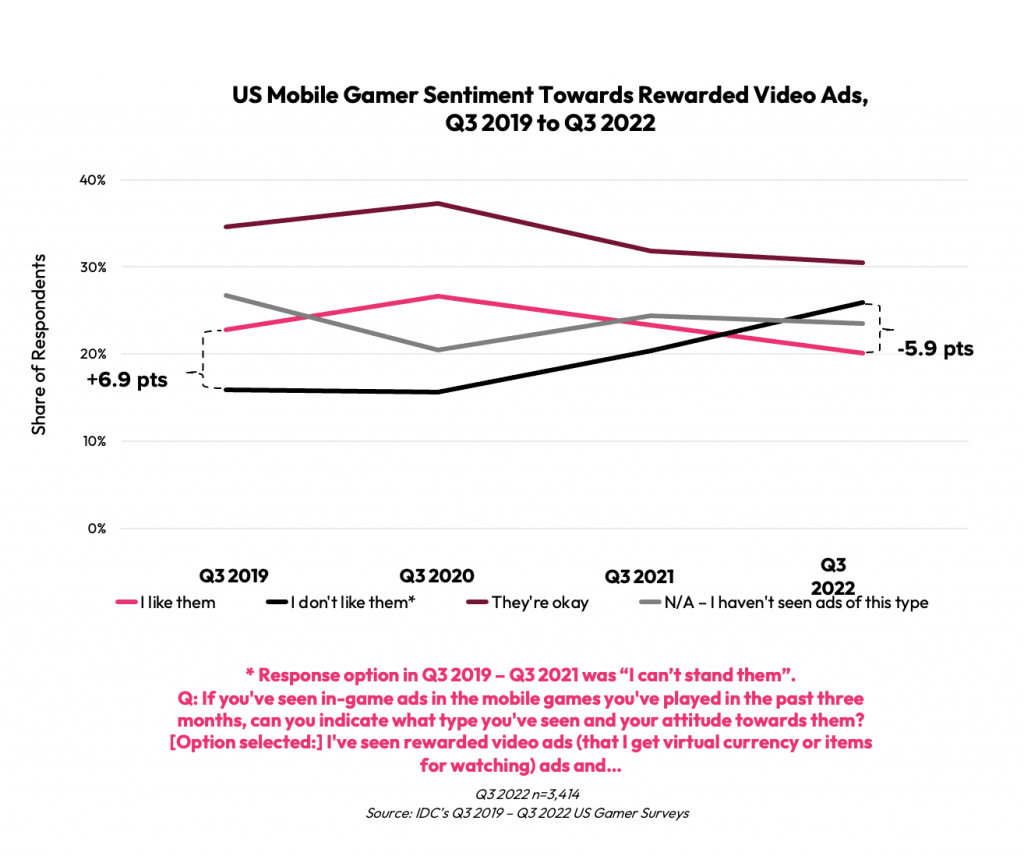 Go Deeper: Download the 2023 Gaming Spotlight Report to Uncover the Trends You Need to Know Across Mobile, Console and PC Gaming
Download the full report to uncover: 
Which gaming platforms are driving the most growth and how to leverage a cross-platform strategy to compete
How shifting tastes make way for emerging genres and how Game IQ can help you identify and create a robust strategy to win on mobile
Which regions represent the biggest growth opportunities for mobile, PC or console and how to capitalize on this growth
What are the Mobile Games that defined the first half of 2023 and the impact they are making around the world. 
What are the latest trends in Cloud Gaming and Handheld consoles and what challenges and opportunities they present for Mobile Gaming
What benchmarks you should reference for User Acquisition and how to leverage for paid UA to grow your audience
How consumer sentiment towards an advertising monetization is changing and why trustworthy contextual market data is needed to inform successful mobile strategies
And more!